Broadway Costumes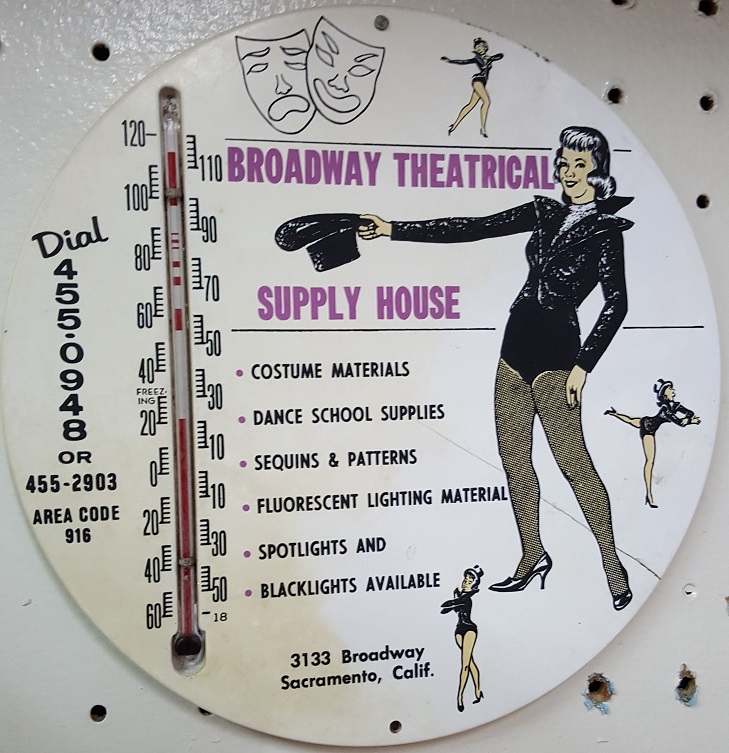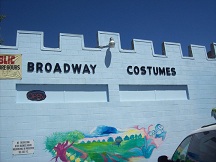 Founded in 1965 by Mrs. Juanita Belle (Wells) Petrali and her husband, Mr. Peter "Pete" Joseph Petrali. Pete was owner of Petrali's Stage and Theatrical Lighting Co. and Juanita was owner of Broadway Pet Store. The pet shop was on the corner of 31st & Broadway in Sacramento, California.
Juanita decided to close down the pet store and started Broadway Theatrical Supply House. She supplied costume materials, dance school supplies, sequins & patterns, and items available from Pete's business, to the burgeoning theatrical community of Sacramento, as well as making costumes as needed. The business was briefly moved to a larger store front in Oak Park, but as the business continued to grow, she decided to get more into supplying costumes and made the decision to buy out a costume shop in Los Angeles for $10k. She then went about creating Broadway Costumes and Theatrical Supply.
Juanita enjoyed much success especially during the Halloween seasons. Catering to parties, school plays and other theatrical events with costume rentals, Juanita also stocked the shelves with novelties, makeup, wigs, beards, and costume accessories to make the rental experience complete.
Employing many staff during August, September and October, the "busy season", the business soon out-grew it's current location and Juanita and Pete moved everything in 1972 to a larger location on Fulton Avenue in Sacramento. They stayed there for 2 years and after purchasing a location on Franklin Blvd. and having the current building completed, they moved to the new location in 1974.
Broadway Costumes expanded to a 2nd location in the late 70's at Watt & Auburn Blvd. but closed it down a few years later as more and more costume shops opened up in Sacramento.
Juanita and Pete both retired in 1984 and sold the business to 2 of their daughters, Karen and Kathy, and their husbands, Don Meadows and Dana Felgenhauer. Karen and Don eventually sold their half of the business in 1988 to Kathy and Dana.
Dana retired in 2009 and Kathy continues to own and manage the business to this date. Karen's son and daughter-in-law, Larry and Deanna Dockter, are now helping Kathy to run the business and continue on with the family legacy.
Pete passed away in 1984 and Juanita passed away in 1996. Don passed away in 1990 and Karen passed away in 2014.
Here's a picture of Pete and Juanita at the wedding of their daughter Kathy in 1972:
And here's the entire Petrali Family in 1976 on the occasion of Pete and Juanita's 50th Wedding Anniversary: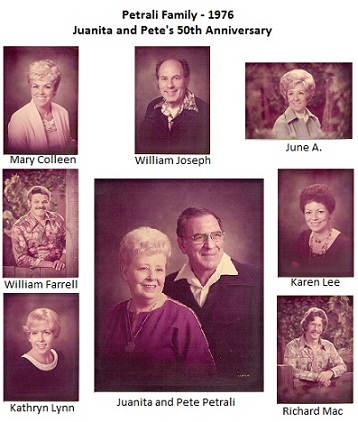 Karen and Don Meadows, previous owners: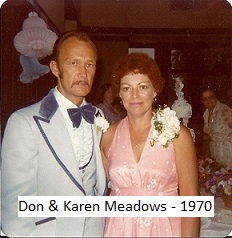 Kathy and Dana Felgenhauer, current owners of Broadway Costumes: