---
Theatrical Makeup and Special Effects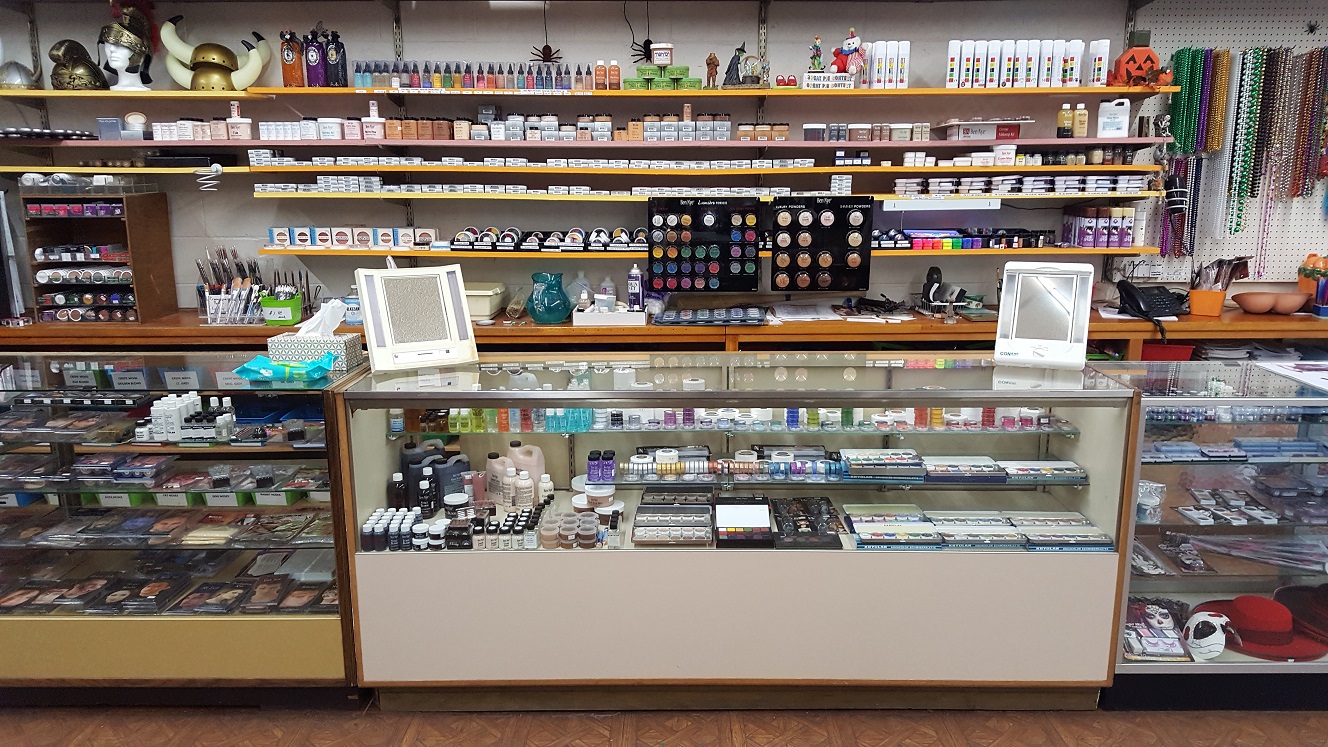 Professional stage artists, amateurs, and even Clowns make Broadway Costumes their theatrical makeup establishment of choice.

Let our expert staff guide you to your characters look.
Achieve dramatic effects with our complete line of appliance and make-up supplies from Kryolan, Ben Nye, Woochie, Scarecrow, Mehron, and more!
We have the best professional theater-quality make-up and accessories for parties, holidays, or for stage and screen in Sacramento!
Broadway Costumes is your premier location!
Here are some small examples of what you can accomplish:
---
Ben Nye

products carried:

Matte HD Foundations & Pallettes
Concealer, Cover-ups and Corrector Palettes & Wheels
Luxury & Shimmer Powders
Lumiere Luxe & Sparkle Powders
Lumiere Grande Colour Palettes & Wheels
Rouges, Shadows, Highlights & Pearl Sheens
Fireworks Fantasy Wheels
Shimmer Crayons
Lip & Pop-Art Colors and Gloss
Eye Liner Cakes, Liquids, Pencils & Mascara
Eyebrow & Highlighter Pencils
Aqua Glitters, Sparklers & Glitz It Gel
Face Powders - Fair, Neutral, Super White, Pretty Pink, Coco Tan, Sienna, Chestnut & Ebony
Character Powders - Plains Dust, Ash & Charcoal
Color Cake Foundations
Creme Foundations - Proscenium, Lite, Tan, Medium, Olive, Twenty & Maple Series
Creme Colors, Clown White & Character Bases
MagiColor Creme Pencils
Character, Effects & F/X Wheels
Alcohol-activated F/X Palettes
Tooth Colors & Tooth F/X Pallette
Hair Colors & Crepe Wool
LiquiSet & Final Seal
Adhesives - Glitter Glue, Spirit Gum & Prosthetic Adhesive
Cleansers, Make-up & Adhesive Removers
Latex & Bald Caps
Nose & Scar Wax
Blood Effects - Stage, Dark, Thick & Fresh Scab
Gelatin Blood Capsules
Effects Gel Wound Kit
Tools of the Trade: Pencil Sharpeners, Sponges (Foam, Hydra & Stipple), Powder Puffs
Character Makeup Kits
Personal and Theatrical Kits for Theater & Film (Cake & Creme)
ProColor Paints (air-brush ready)

---

Scarecrow

products carried:

Classic Custom Fangs
Small Deluxe Vampire Fangs
Saber Extra Long Fangs
Shredders Double Fangs
Refill Kits for Fangs

---

And we carry:

Billy Bob Teeth
Hats (many styles)
Masks (masquerade, over-the-head, latex and vinyl)
Wigs from Garland and West Bay and others

and many other costume accessories

Kryolan

products carried:

​TV Paint Sticks
Aquacolor Colors

Small, Medium & Large Sizes
Pallettes & Refills

Metallic Colors
Interferenz (shimmery) Colors

Small, Medium & Large Sizes
Pallettes & Refills

Dayglow Colors (blacklight activated)

Small, Medium & Large Sizes
Pallettes & Refills

Eyebrow Plastic
Natural Sponges
Rigid Collodion
Flexible Sealor
Spirit Gum "P" & Remover
HD Pro Gum & Remover
Glatzan & Latex Bald Caps
Makeup Brush - Torey Line
Pros-Aide I & Pros-Aide II
All Pur, Gentle Make-up Remover (non-solvent)
Colored Hairsprays
Eyelash Adhesive
Make-Up Manual (2016)

---

Mehron

products carried:

Metallic Powder with Mixing Liquid - Gold, Silver, Copper
Barrier Spray
Non-Latex Foam Makeup Sponges
Paradise Cake Makeup AQ Prisma BlendSet
Prisma Brushes

---

Woochie

products carried:

Bald Caps

Blue, White, Brown, Flesh

Latex Appliances

Injuries
Bald Caps
Horns
Ears
Noses
Characters
Kits and Sets

---
---